Diversity Celebration Series - Hispanic Heritage Month: Protecting Civil Rights and Wellbeing by Building Identity
CHSHS is proud to welcome Dr. José Angel Gutiérrez, one of the founders of La Raza Unida Party, and Eduardo Chávez, grandson of César Chávez and filmmaker of "Hailing César" to delve into César Chávez's legacy and modern civic engagement.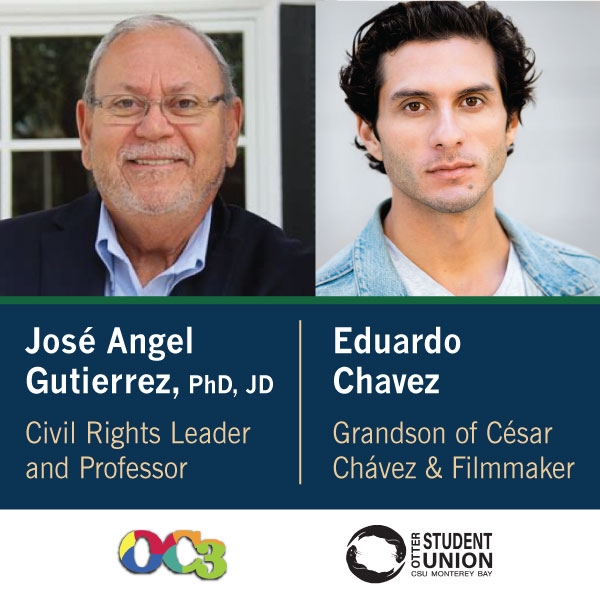 September 22, 2020
5:00pm — 7:00pm
Dr. José Angel Gutiérrez
José Angel Gutiérrez, Emeritus, PhD, JD, is considered one of the Four Horsemen of the Chicano Movement, alongside Cesar Chavez, Rodolfo "Corky" Gonzales, and Reies Lopez Tijerina. Dr. Gutierrez helped found La Raza Unida Party in the early 1970's to bolster Mexican American representation in government and encourage Mexican Americans to register to vote.
He is a Professor Emeritus of Political Science and founder of the Center for Mexican American Studies at the University of Texas-Arlington. He has been an elected and appointed public official in Texas and Oregon. During the administration of Mexican President Luis Echevarria Alvarez, he founded the Becas Para Aztlan program and Mexico Hoy seminars with the Colegio de Mexico. He is featured in several video documentaries: Willie Velasquez (2018); Latino Americans (2013), SCHOOL: The Story of American Education, Episode Three, (2000); and. CHICANO! A History of the Mexican American Civil Rights Movement (1996). He has received many professional honors including the 2018 National Hispanic Hero Award from the United States Hispanic Leadership Institute.
Dr. Gutierrez has authored and co-authored over seventeen academic books plus two children's picture books. His latest book, The Eagle Has Eyes: The FBI Surveillance of César Estrada Chávez of the United Farm Workers Union of America, 1965–1975 explores declassified FBI files on the Chicano Movement.
Eduardo Chávez
Eduardo Chávez is the scion of two revolutionary families, as the grandson of both the legendary civil rights activist César Chávez and the Cuban revolutionary Max Lesnik. Eduardo's political and activist background influenced his feature documentary, "Hailing Cesar," released in April 2018. To connect with his grandfather's legacy, Chávez traveled in César's footsteps to immerse himself in his family's political heritage.
Since its debut, Eduardo has screened "Hailing Cesar" and spoken at 50+ universities in 3 different countries. In addition to being a director, speaker & activist, Eduardo is the co-founder of Latindia Studios and a member of the Speakers' Board for the Chavez Institute for Law and Social Justice.
For Eduardo's next film, his goal is to humanize the immigration crisis in the U.S. through personal stories of immigrants and high-profile individuals.