CAHSS Brown Bag & Spotlight on Student Success
Our last event of the 20-21 series will be an expanded Brown Bag Spotlight on Student Success event featuring presentations by faculty and students plus a panel discussion on reduced- or no-cost course materials with faculty and students.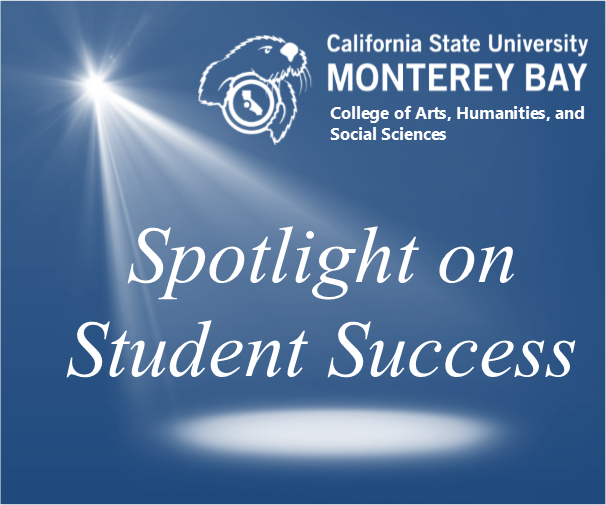 The last event in the 2020-21 CAHSS Brown Bag Faculty Research Series is a Spotlight on Student Success crossover. Join us as we shine the spotlight on our faculty and students both presenting and serving on a panel:
Dr. Ruben Mendoza, SBGS, and students, Topic: The Boronda Adobe History Center: Public Archaeology, Historiography, and the Virtual Museum


Abstract: Featured student work to include Jackie Estrada (SBS GIS), who generated an ArcGIS StoryMap for the Monterey County Historical Society / Boronda Adobe History Center and Sean Slayton (SBS History), who generated the Ricoh 3D virtual walkthrough visualizations of a host of buildings at the MCHS featured in the ArcGIS StoryMap. This presentation will summarize recent SBS Archaeology Service Learning efforts to provide students access to the invaluable collections of the Monterey County Historical Society, and its primary document archives that span the period from 1770 through the 1850s. In addition to the review of this work, Dr. Mendoza will introduce the presentation with a brief overview of the benefits accrued to date by our students, who are presently producing primary research for Capstones and publications, as well as instructional materials for Salinas area schools and student tour groups.

Student presenters include: Jackie Estrada and Sean Slaton


Dr. Christine Fernandez, WLC, and students, Topic: Pandemic Pedagogical Approaches to Hispanic Testimonials


Abstract: The presentation titled, "Pandemic Pedagogical Approaches to Hispanic Testimonials," explores recent pedagogical approaches to teaching testimonio, including literary materials that provide a global lens on the effects of the current pandemic in Latin America. A student panel will present their findings on community engaged learning since the collaborative project for the course involves writing community members' testimonios to capture social justice issues in our surrounding Latinx/ Hispanic communities and compiling them as a digitally enhanced e-Anthology.
Student presenters include: Vanessa Castro, Alejandra Islas Pacheco, Guadalupe Torres Lustre, Gabriela Zamora-Ramírez, Resignación Salvador-López

Panel Discussion: Dr. Lanier Sammons, MPA, and Dr. Kelly Medina Lopez, HCOM, and Student Editors from Writing Waves, Topic: Reduced or No-Cost Course Materials and Student Success


Abstract: In this panel discussion, Kelly Medina-López and Stella Meadows, a student editor, will discuss Writing Waves, an undergraduate writing and research journal that is curated, edited, designed, and produced in-house by CSUMB HCOM majors. Published in a free, open-access format on CSUMB's Digital Commons, Writing Waves features essays and creative pieces authored by students in CSUMB's GE Area A2: Written Communication courses. The journal, which has a global readership and garners over 1,000 article downloads monthly, was developed and intended as a zero-cost course reader specifically for GE Area A2. As such, Writing Waves replaces the need for a traditional textbook, removing costly barriers to GE education, while also celebrating and centering CSUMB student voice and promoting a sense of belongingness on campus. Although intended for GE A2 students, Writing Waves has broad applicability across GE and beyond. Join this discussion and find out how you can write the wave with us!

Learn more about: CAHSS Brown Bag Faculty Research Series and our Spotlight on Student Success
The CAHSS Office of the Dean strives to make events accessible for all. For accommodation requests, please email cahssdean@csumb.edu, at least one week prior to the event.