October 5th First Friday
Free! Karaoke! Authors ! Plays! Food! Art! Music! Poems! Workshops!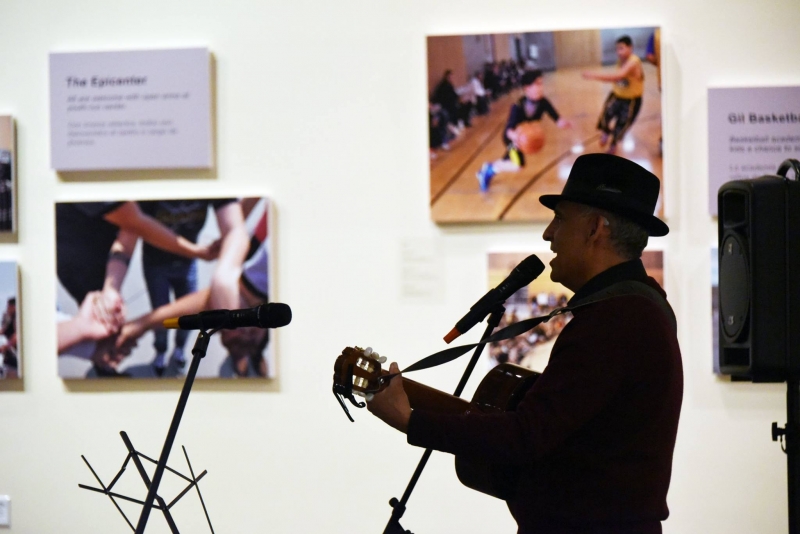 October 5, 2018
5:00pm — 9:00pm
CSUMB Salinas Center for Arts and Culture
Free
Facebook Event
facebook
- Free! Arts workshops for kids by Hijos del Sol Arts Productions (5pm - 8:30pm)
Karaoke Contest!
The 6th Annual Salinas High Schools Japanese Karaoke Contest will take place at Salinas Room of CSUMB Salinas City Center on Friday, October 5th from 5pm to 7:30pm. This event is sponsored by Japanese American Citizens League (JACL) and we welcome judges who are community members representing JACL, CSUMB, Salinas Buddhist Temple and Aragon High School in San Mateo. Select students from the four high schools of Salinas Union High School District will amaze and entertain the audience with their favorite Japanese songs. Japan Club members from all of the schools will perform a dance number and even teach a simple Japanese dance to the audience. Please join us for this special showcase of talented students in the community.
Peña Cultural de Salinas
Poetic and musical event and open mic 7 pm- 9 pm. Now with Piano!
Closing of "Existimos" We Exist Exhibit
Art works by foster youth and foster families, official and undocumented, in Salinas. The works include paintings, a photographic installation and retablos featuring works by youth from CSUMB, Hijos del Sol, Epicenter and Hartnell College.
Image: "El Despojo" by Salinas' Jose G. Ortiz, Oil on Canvas.
Tactile Paths: an introduction to notation for improvisers
Christopher Williams, Ph.D.
Since the 1960s, many composers and musicians have worked at the interface of notation and improvisation. Learn about this exciting practice and history!
Gambatte Kimashita: Japanese Flower Growers of the Salinas Valley
Exhibition! Documentary Film!
In 2013, the Salinas Valley Japanese American Citizens League (SVJACL) i
The exhibition includes a historical overview of the flower grower community in the Salinas Valley, beginning with the establishment of other Japanese flower growers in other parts of California, the impact on immigration policy around the time of World War II, and the reopening of the country after the war that allowed for a new group of entrepreneurs to arrive and establish their own businesses. It speaks about the personal experiences of the flower growers, the challenges they faced, the communities they built, and their participation in the wider Salinas community.
The exhibition includes historical photography, objects and hand-painted maps. There will also be a large greenhouse, tended to by students from Salinas High School.
The exhibit was curated by the community with support from Elizabeth Welden-Smith. It is a collaboration of the SVJACL, CSUMB's School of World Languages and Cultures and the CSUMB Salinas Center for Arts and Culture.
There will also be the premiere the documentary film, "Gambatte Kimashita: Japanese Flower Growers in the Salinas Valley" created by CSUMB alumnus Eric Palmer.
This event is free, will take place in English, Japanese and Spanish and is open to all.
This project was made possible with support from California Humanities, a nonprofit partner of the National Endowment for the Humanities. Visit www.calhum.org.
For more information, please contact:
Enid Ryce, Director, CSUMB Salinas Center for Arts and Culture, (831) 737-3566, eblader@csumb.edu